Stay
Bunk room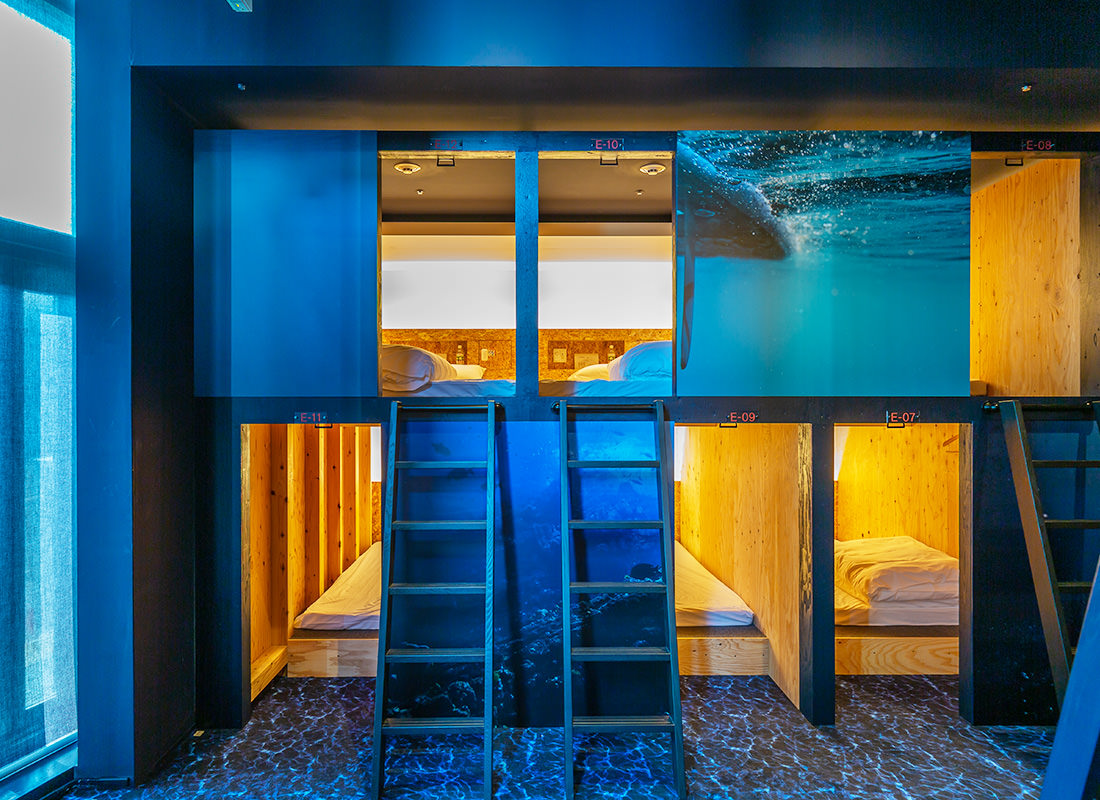 Bunk room
Sleep in the ocean
The compact cabin type guest rooms with the image of the deep sea. As you walk past the lobby, it looks as if you are entering the ocean with waves of light around your feet, and jellyfish, fish, and divers guide you to the Bunkroom area. There, you will see pictures of scenery from under-the-sea in Hayama, which will let you relax in a calm atmosphere. Equipped with a spacious bed of 120 cm in width, it also has a mini-kitchen with a microwave and kettle to enable you to cook a simple meal. Well functioning with its amenities, storage space, racks, and safe-deposit box for your valuables. It is a bountiful guest house with accessibility to the hot spring bath Horizon and a shower booth as well.
Comfortable higher ceiling cabin
Tall-type guest rooms with higher ceiling. Comfortable accommodation with a walkable height although being a cabin-type. Well equipped with compact, yet sufficient storage space and racks.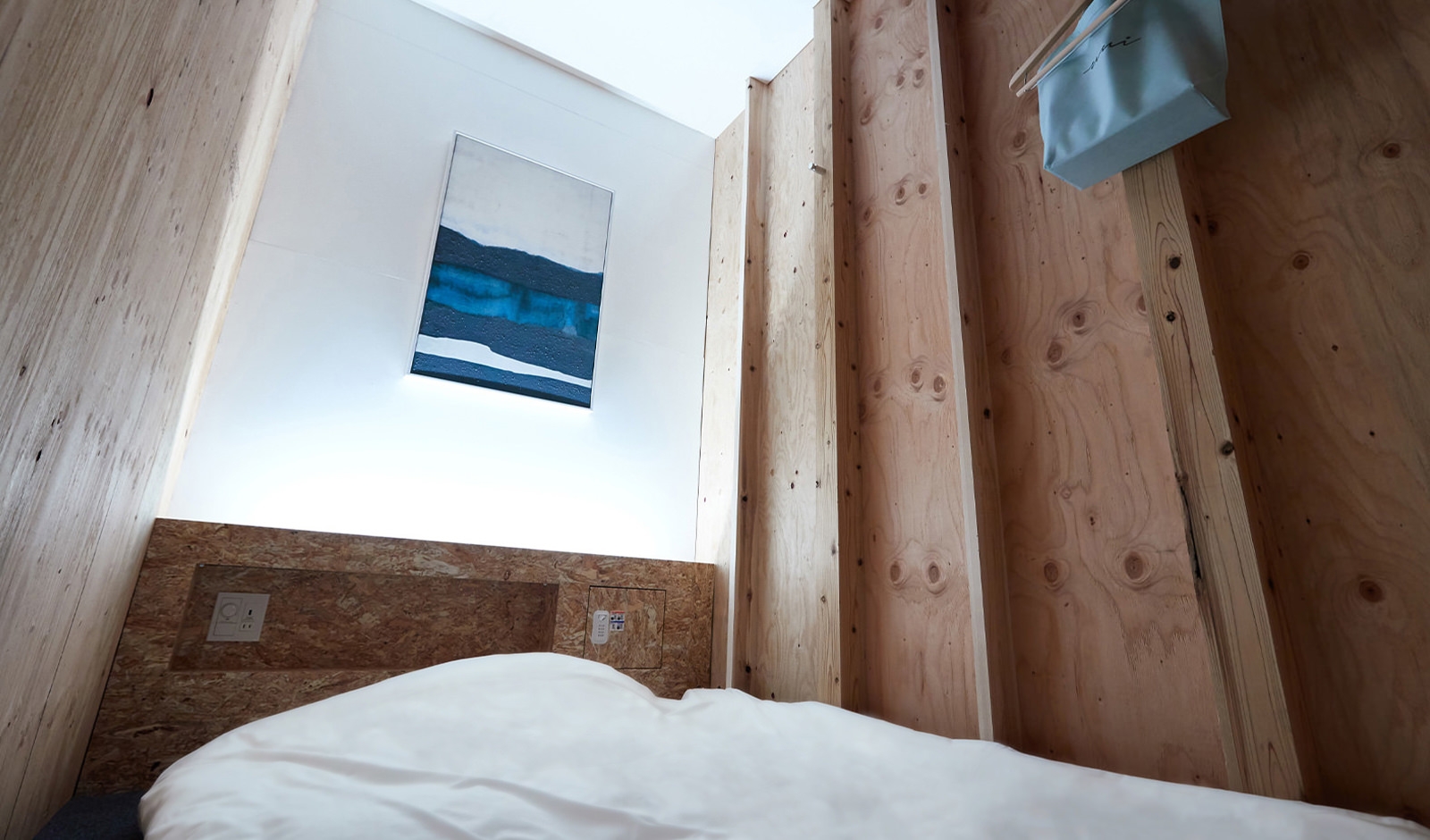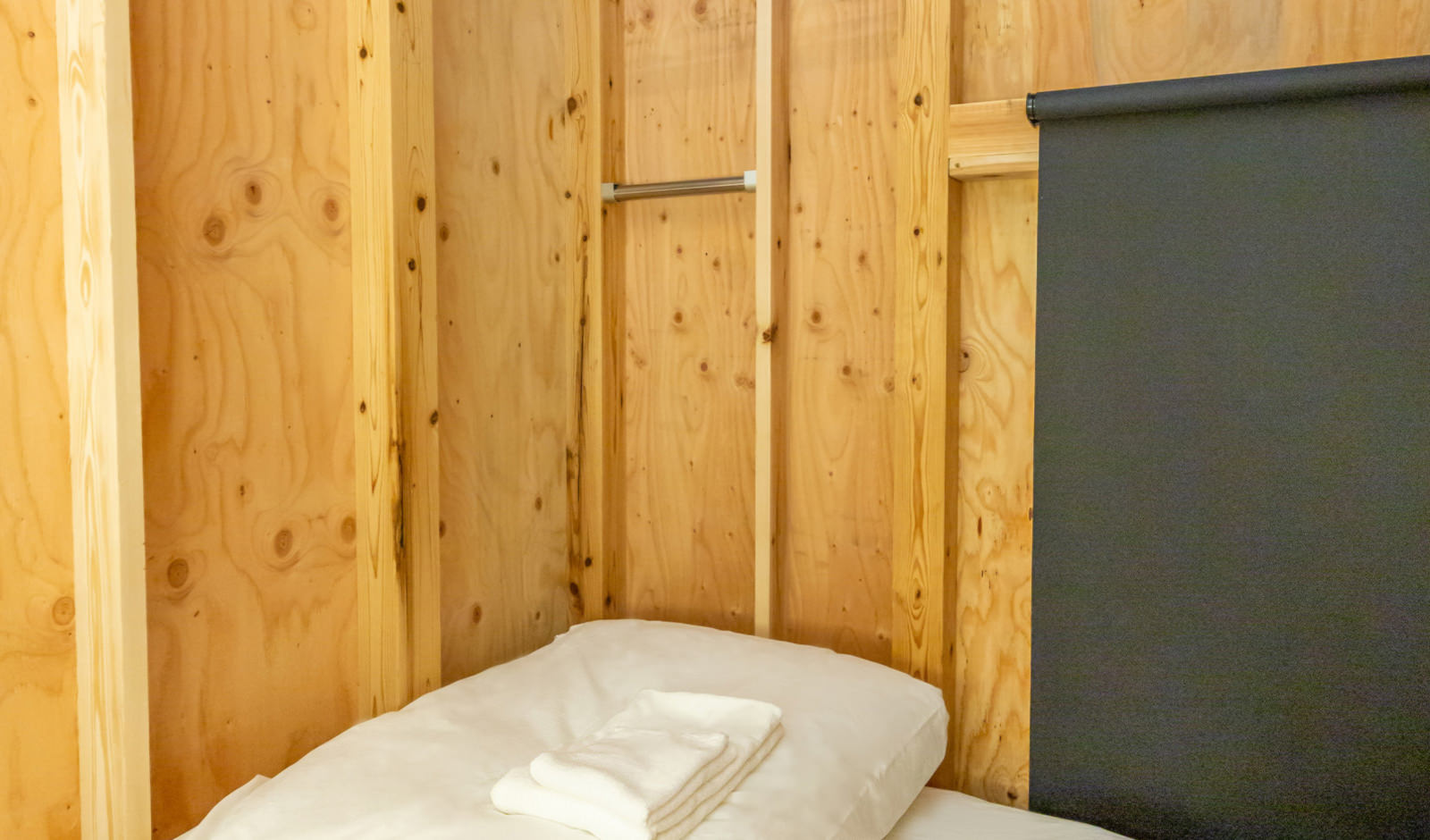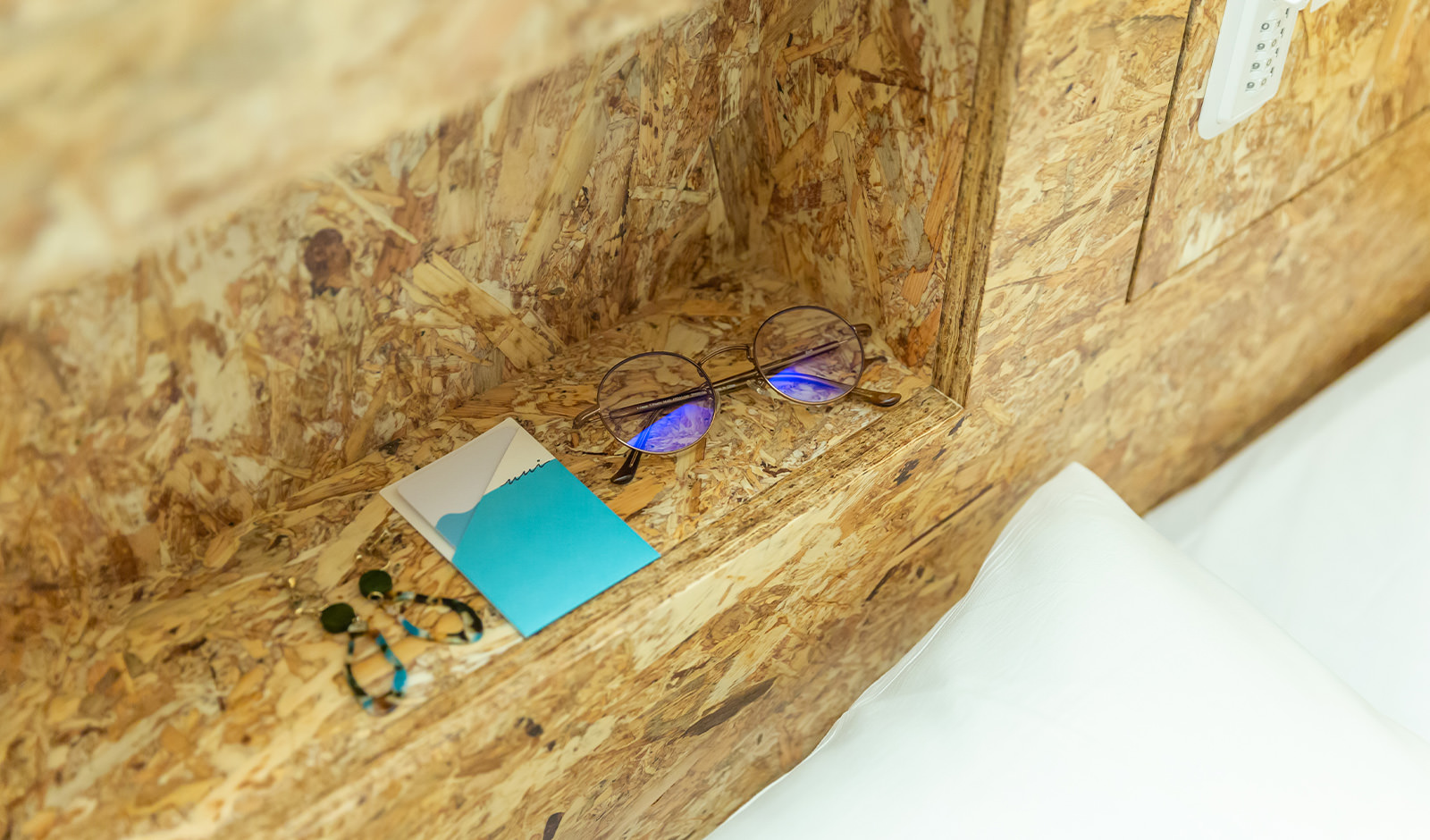 Room size

4 ㎡
Bed size

120 cm
Depth

240 cm
Height

180 – 240 cm
Maximum allowed

1 person
Room type

Cabin type
Bath room

Large hot spring bath / communal shower
Drier (shared) / Hanger / Towel / Tooth brush / Valuables BOX / Amenities (shared) / Toilet (shared)
The bed to let you comfortably sleep
A reasonable guest room nicely and compactly combining sleep and the necessities of your stay. Bigger size bed compared with that of a general cabin-types.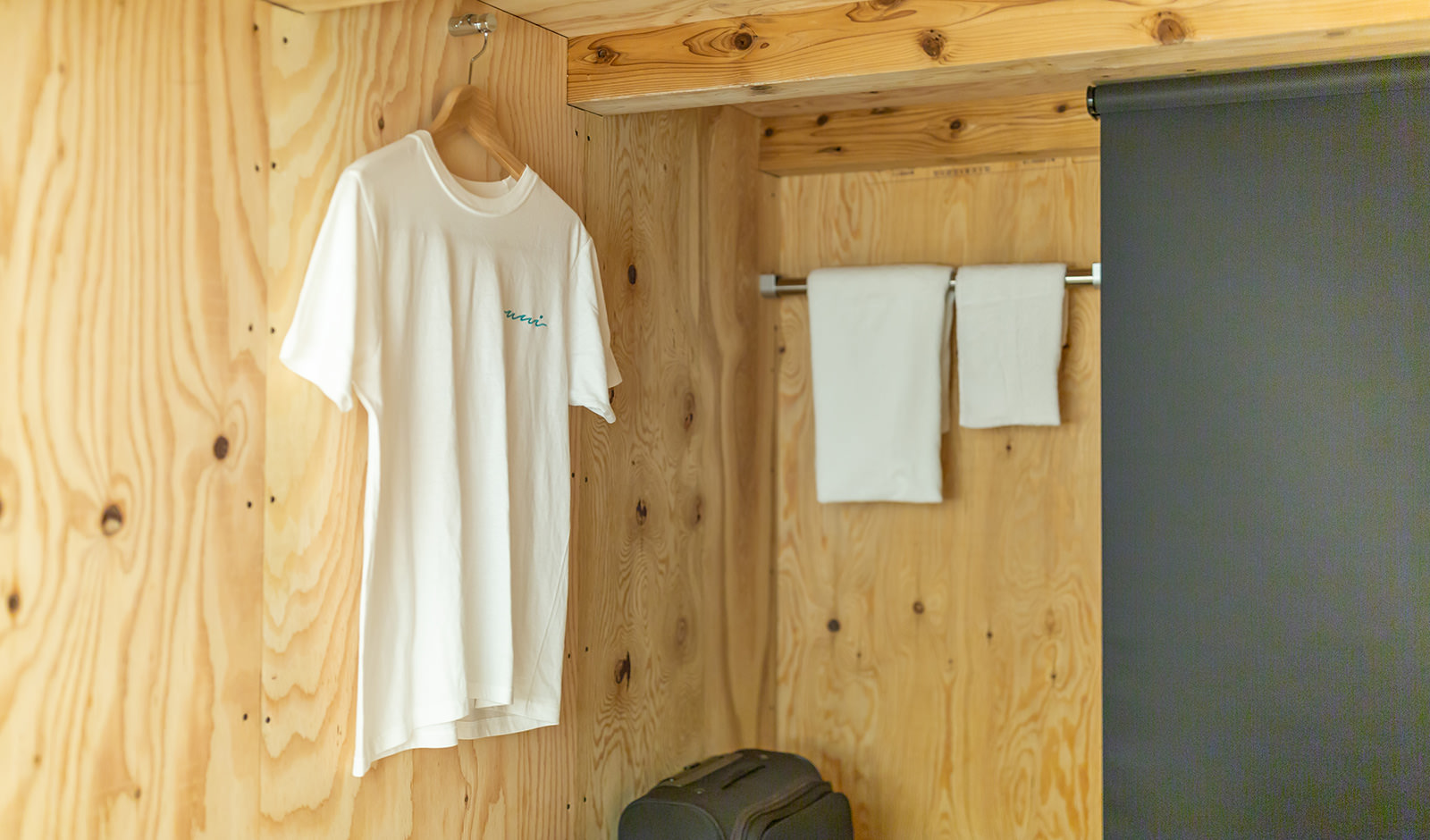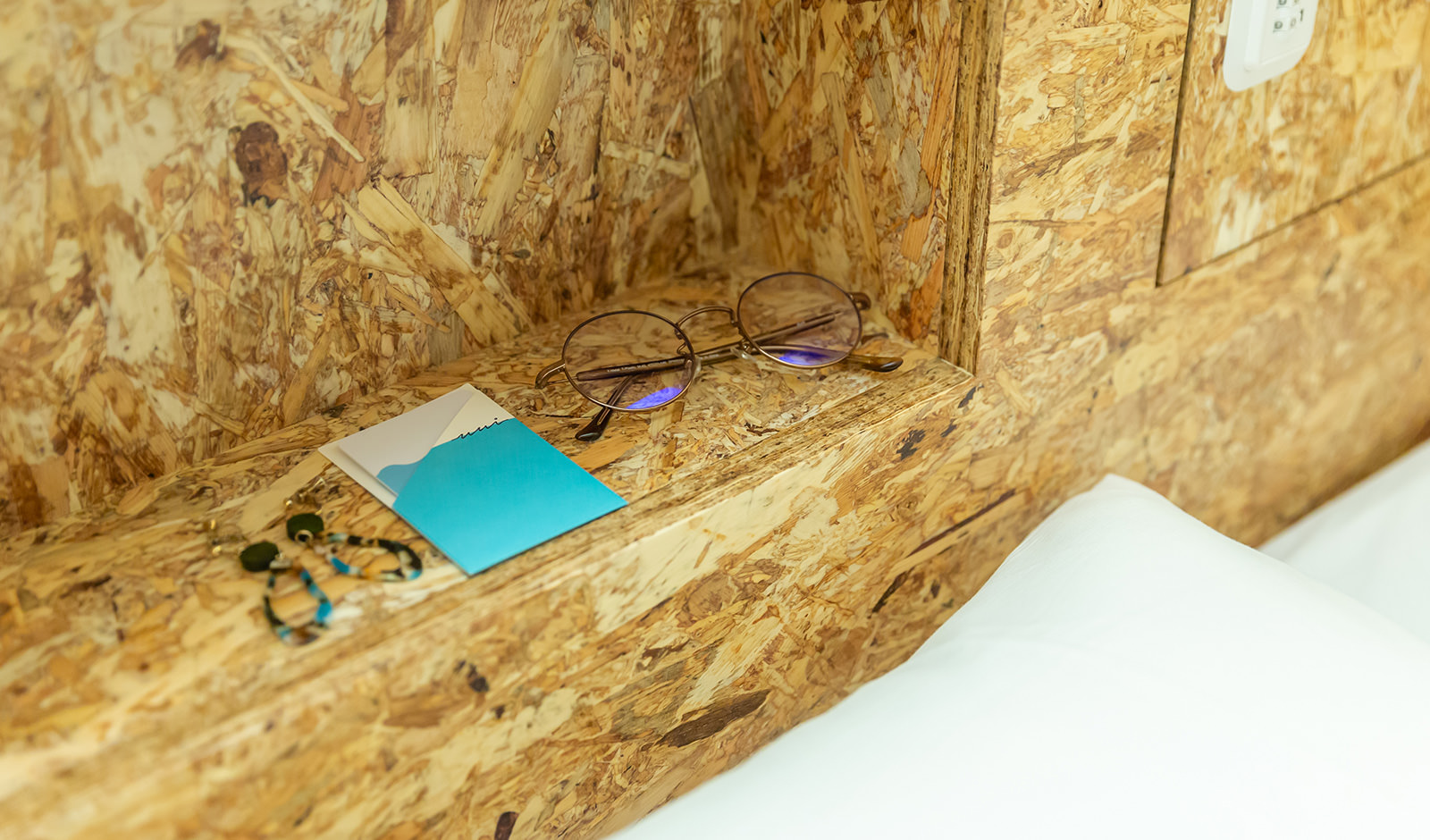 Room size

4 ㎡
Bed size

120 cm
Depth

240 cm
Height

110 cm
Maximum allowed

1 person
Room type

Cabin type
Bath room

Large hot spring bath / communal shower
LCD TV / Refrigerator / Hairdryer / Electric kettle / Safe / Glasses and Cups / Towels and amenities / Shoehorn / Slippers / Emergency penlight
Feature
Onsen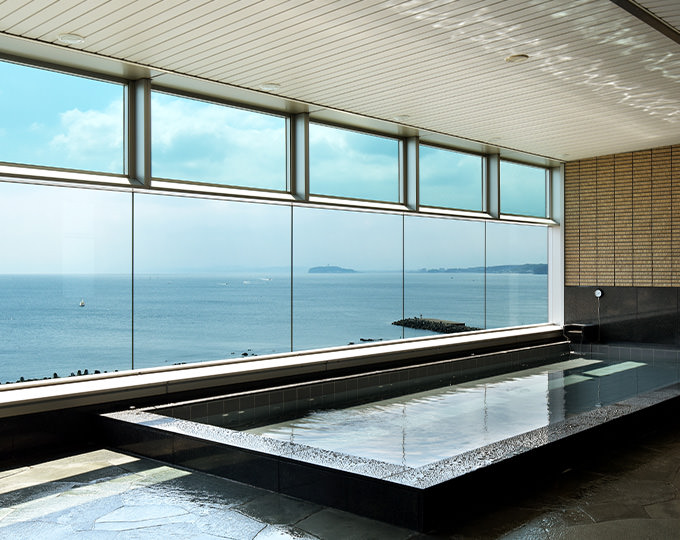 "The hot spring bath Horizon* with a large hot spring bath "Enoshima" and a small bath "Morito" with a vast view of the ocean and the horizon. We offer an exclusive healing space, namely a view of Hayama from the top floor along with the Onsen. Mt. Fuji at dusk, and the beautiful sparkling ocean are just simply exceptional.
Artificial hot spring using a natural ore called Komyoseki ore.
Available only for the hotel guests.
Shower
room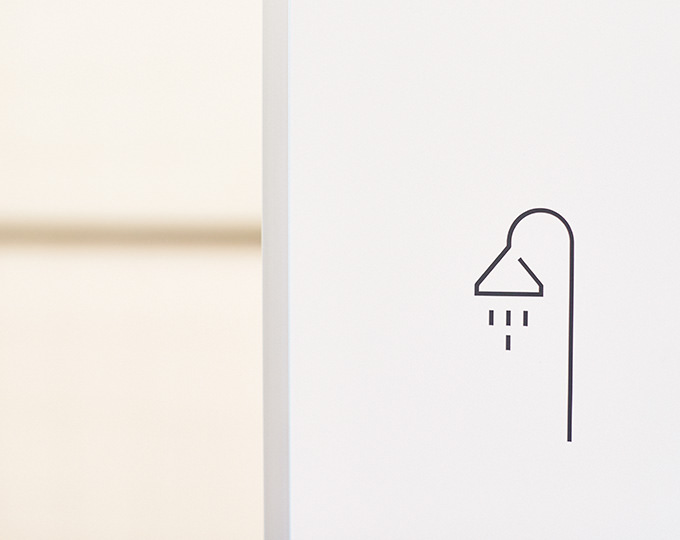 Mini kitchen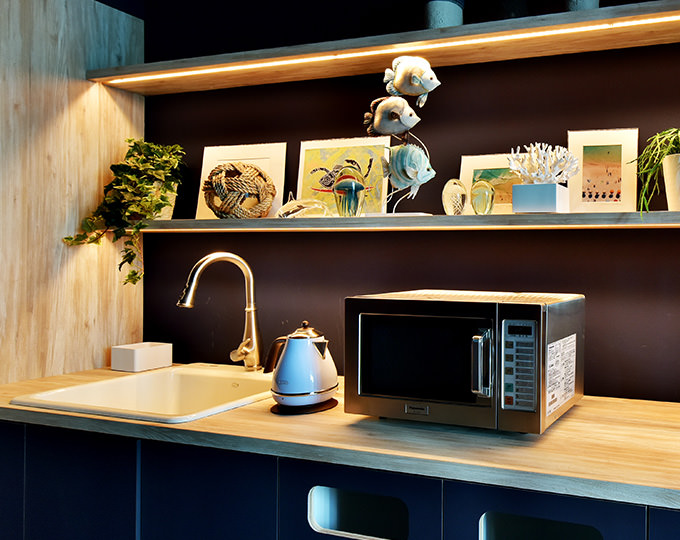 The mini kitchen in the communal space is available for the bunkroom guests. Feel free to use the microwave, hot water dispenser, kettle, and plates to cater to your needs during your stay. They will be useful for you to cook instant food or to re-heat your take-away food, or to make hot beverages. Enjoy your meal at the spot of your choice, such as the terrace, Koagari, or others.
Laundry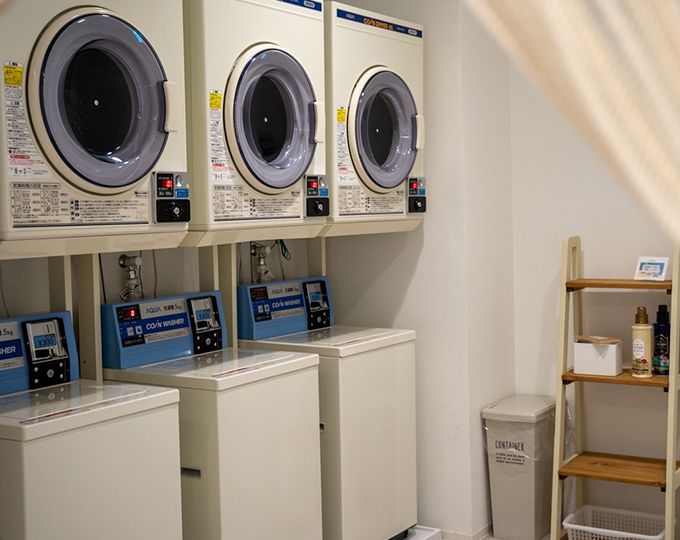 Available for 24 hours, 3 machines (laundry machine with drier), detergent and softener are complementary.
Koagari
Koagari, a tatami space where you can relax bare foot. Enjoy your conversation at the spacious table, and Tipi, BOHO style. A counter looking at the ocean is available as well. Freely enjoy it in the BYO style.
Women-only
area
We have a women-only area at the bunkroom area for you to comfortably stay by yourself or as a group. Our well-chosen amenities at the large bath "enoshima" and the small bath "morito," such as facial cleansing items and skin-care products, are for you to enjoy. You will have no reason to be anxious about your privacy since we also have shower booths that are gender-segregated. Our communal lavatory and toilets are well maintained spaces with abundant cleanness and freshness.