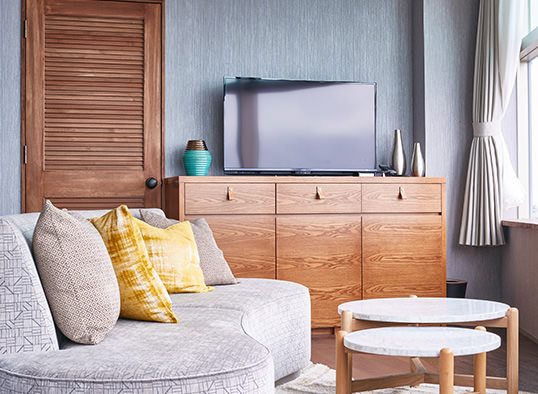 Stay
Luxury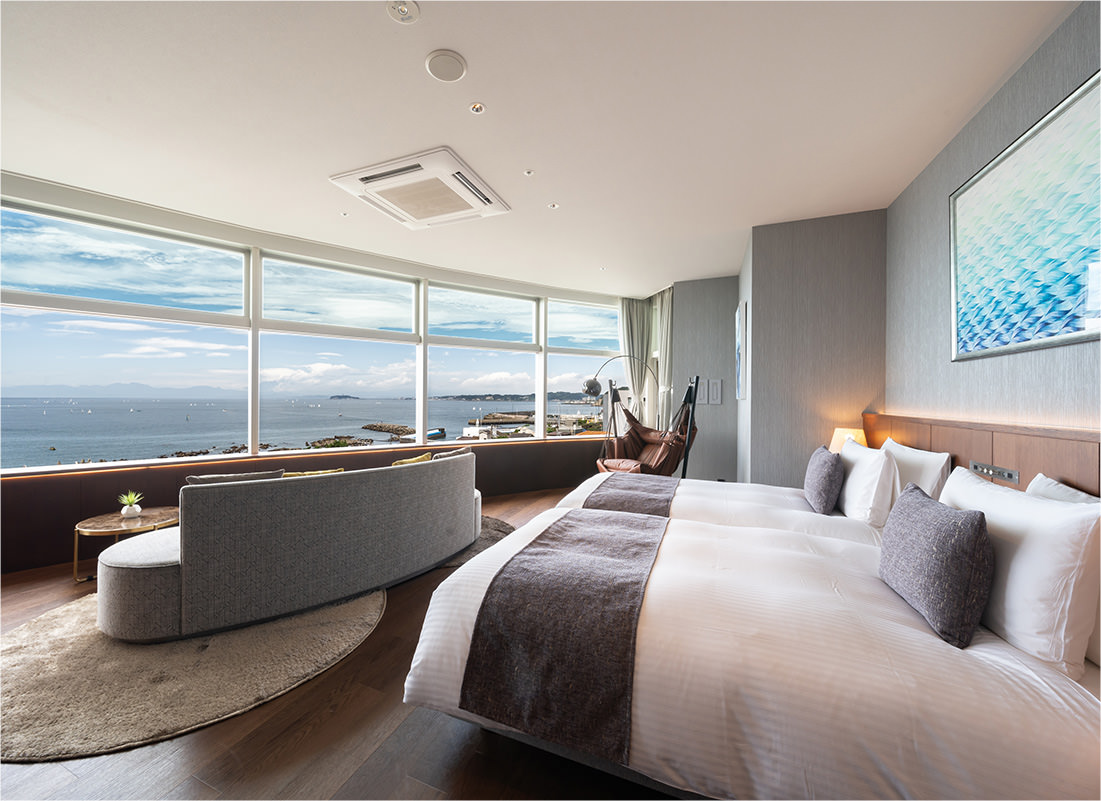 Sunset Luxury
The luxurious time looking at the ocean of Hayama
At the room appropriately named as "Sunset," awe-inspiring sunsets await you. On a fine day, you will see the outstanding interweaved view from Enoshima in the front and Mt. Fuji with the evening glow from the vast window opening to the ocean. The attractive panoramic ocean front layout allows you to be embraced by ocean views from any angle of the room, whether looking at the horizon from the bed or bathroom. The calm unifying colors of the furniture and furnishings were selected with nature-oriented thinking and fine sense. Enjoy luxurious time reading a book, or fall asleep on the hanging chair by the window.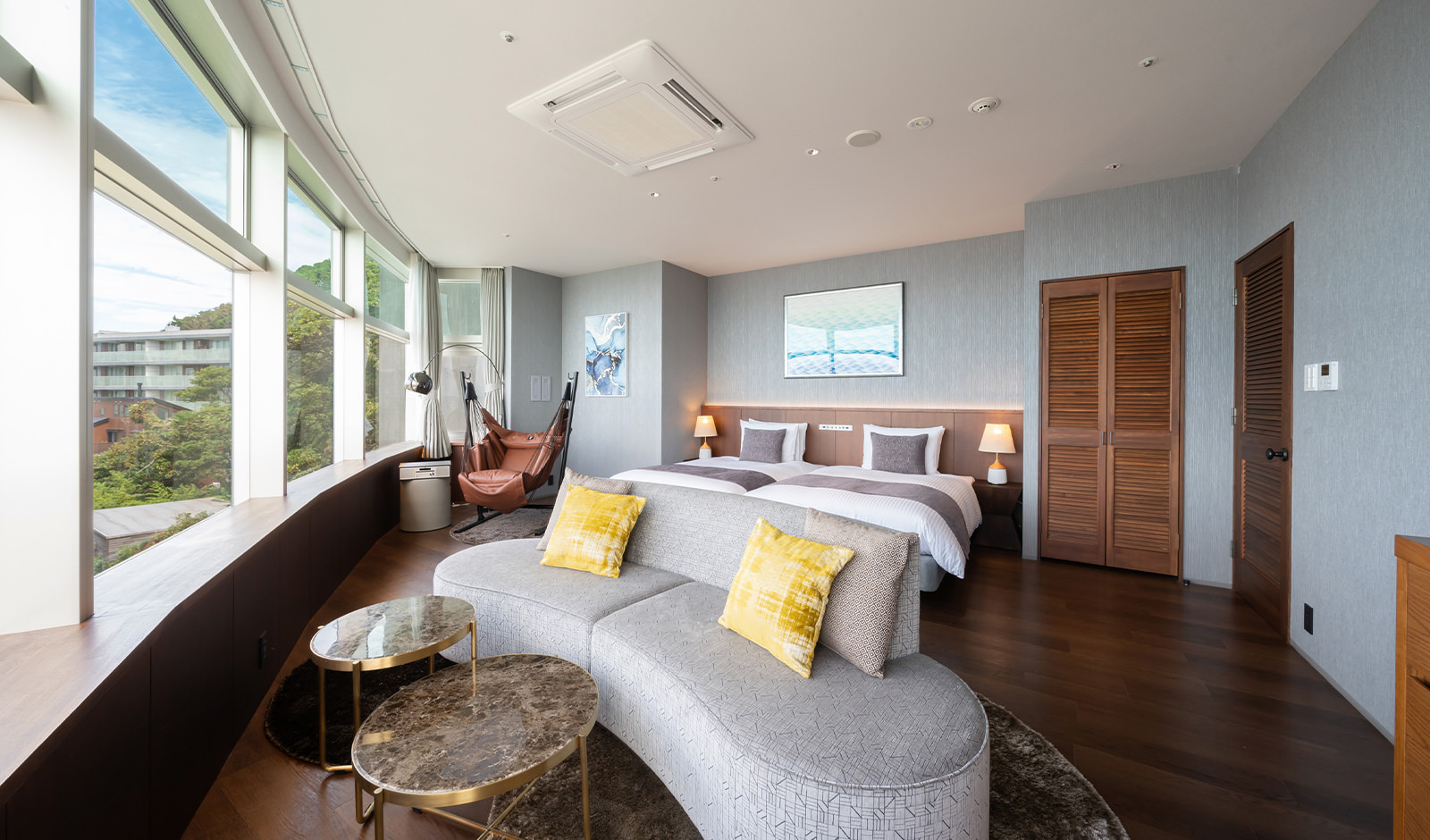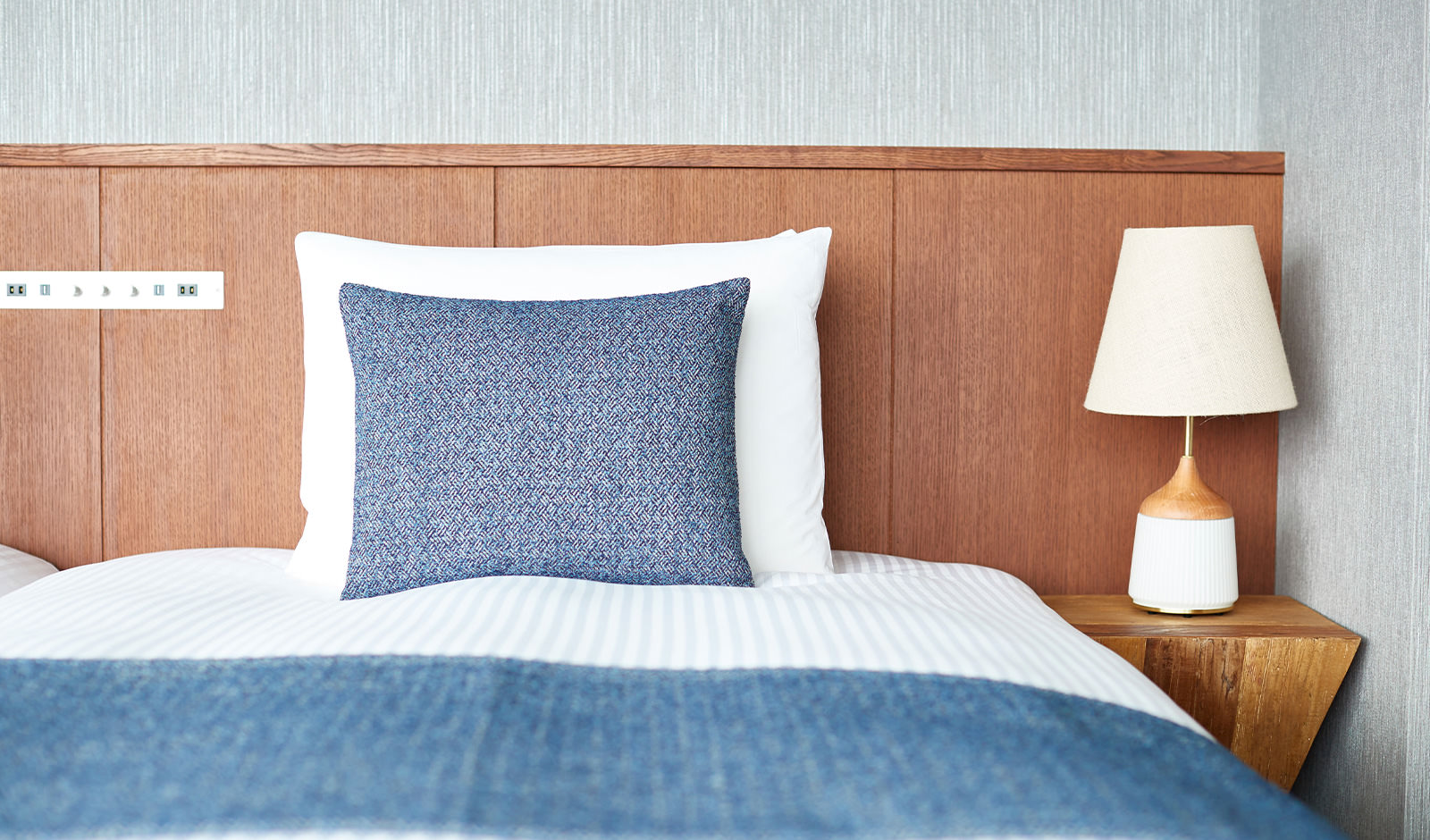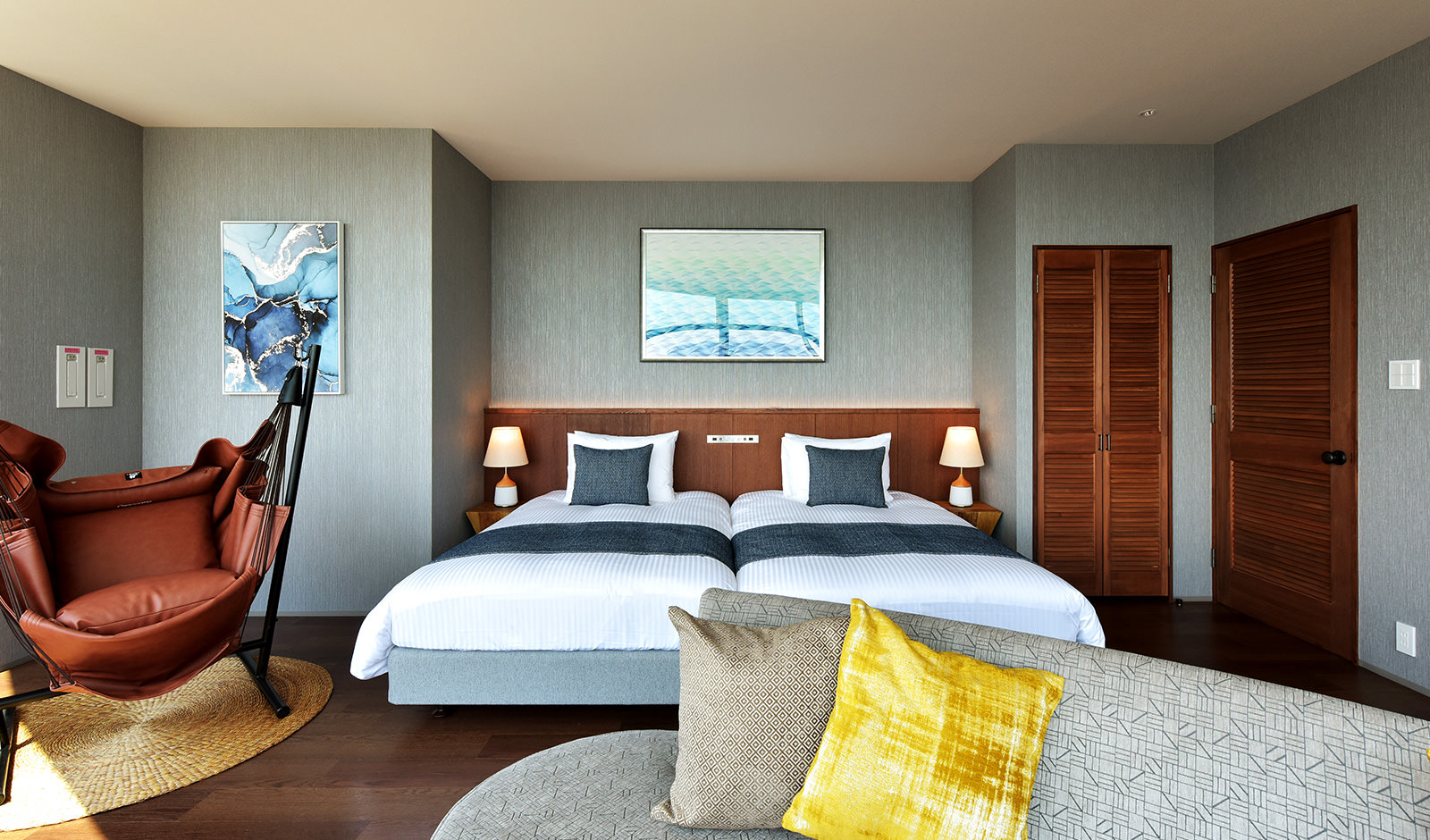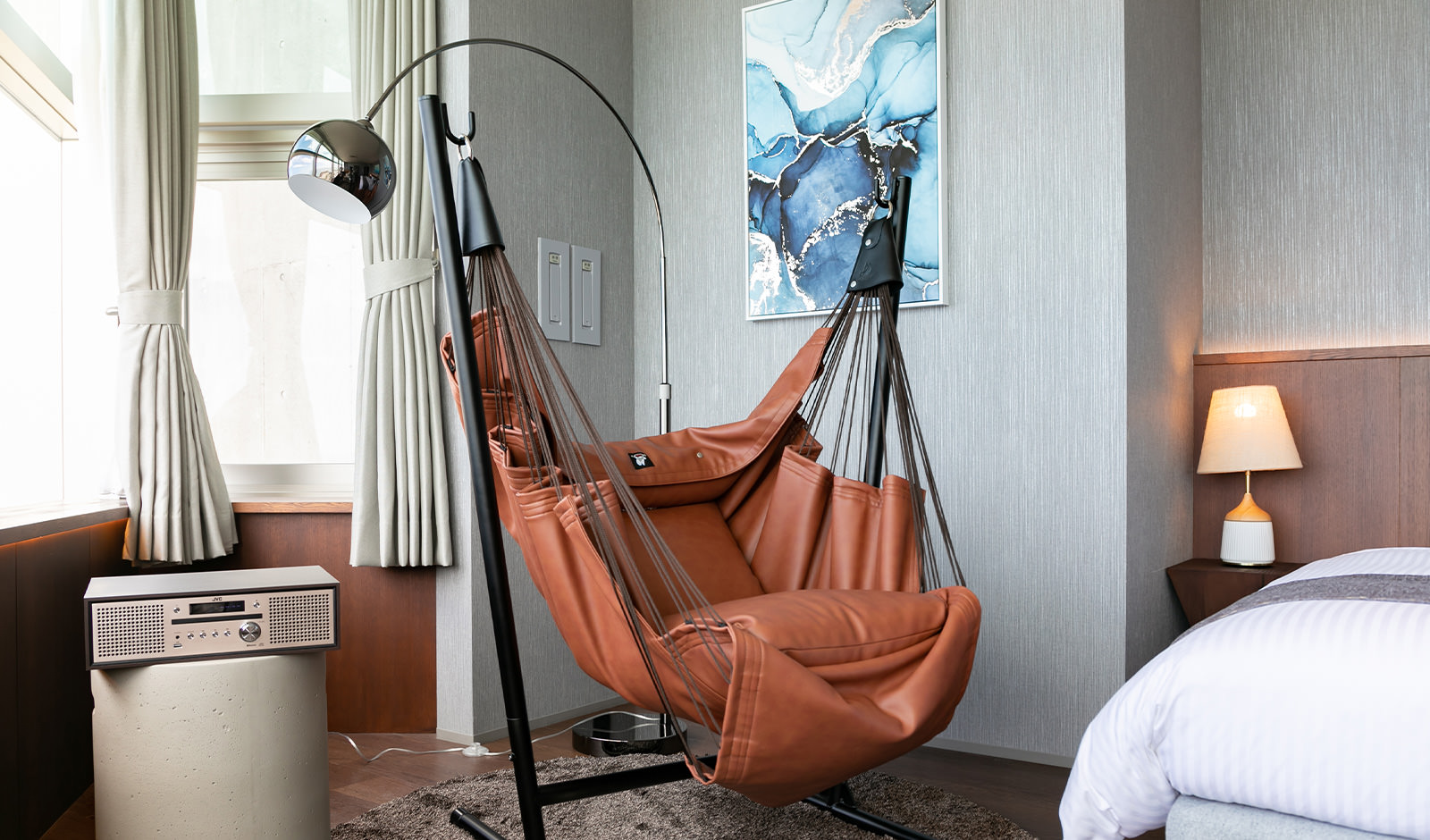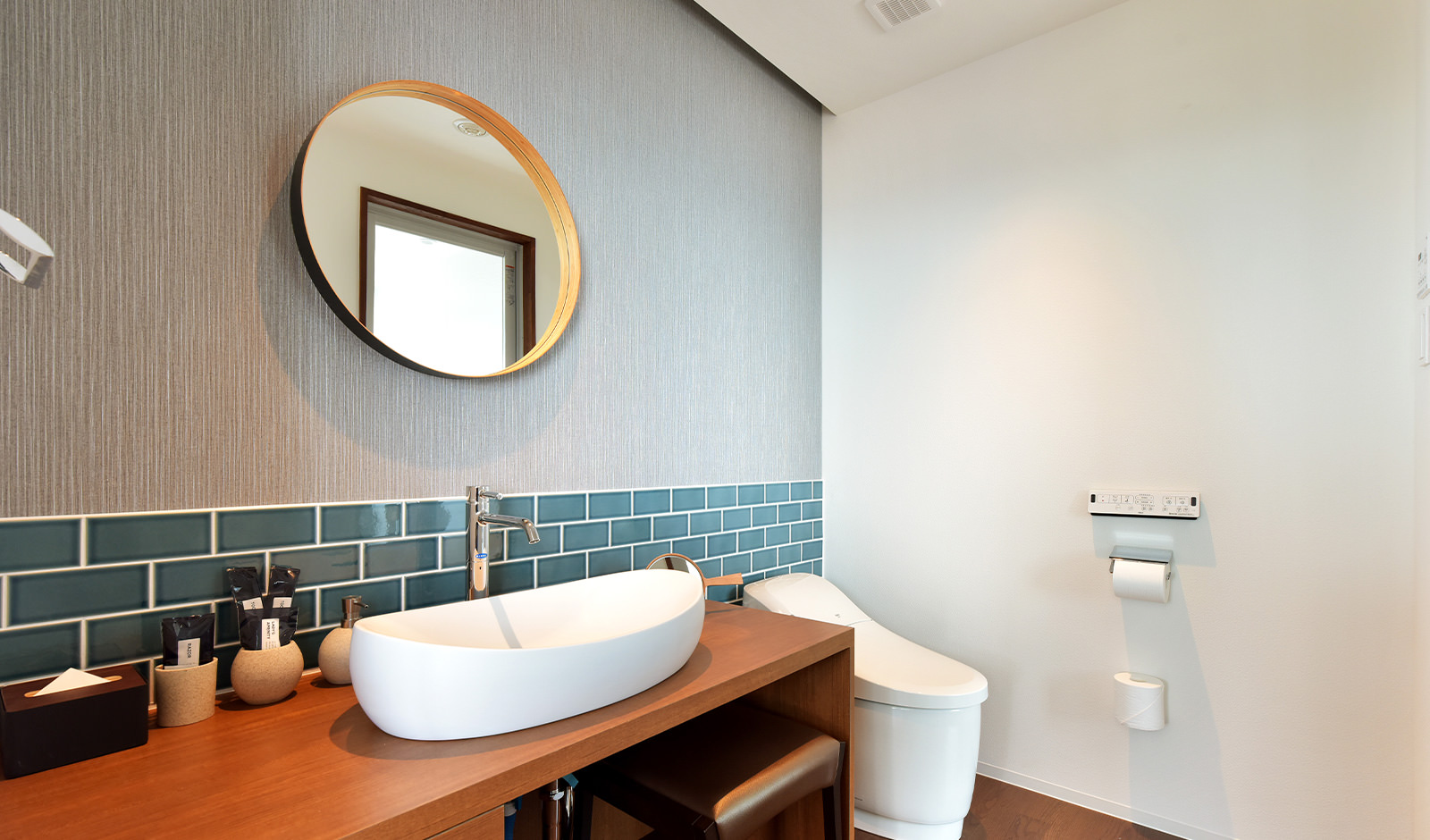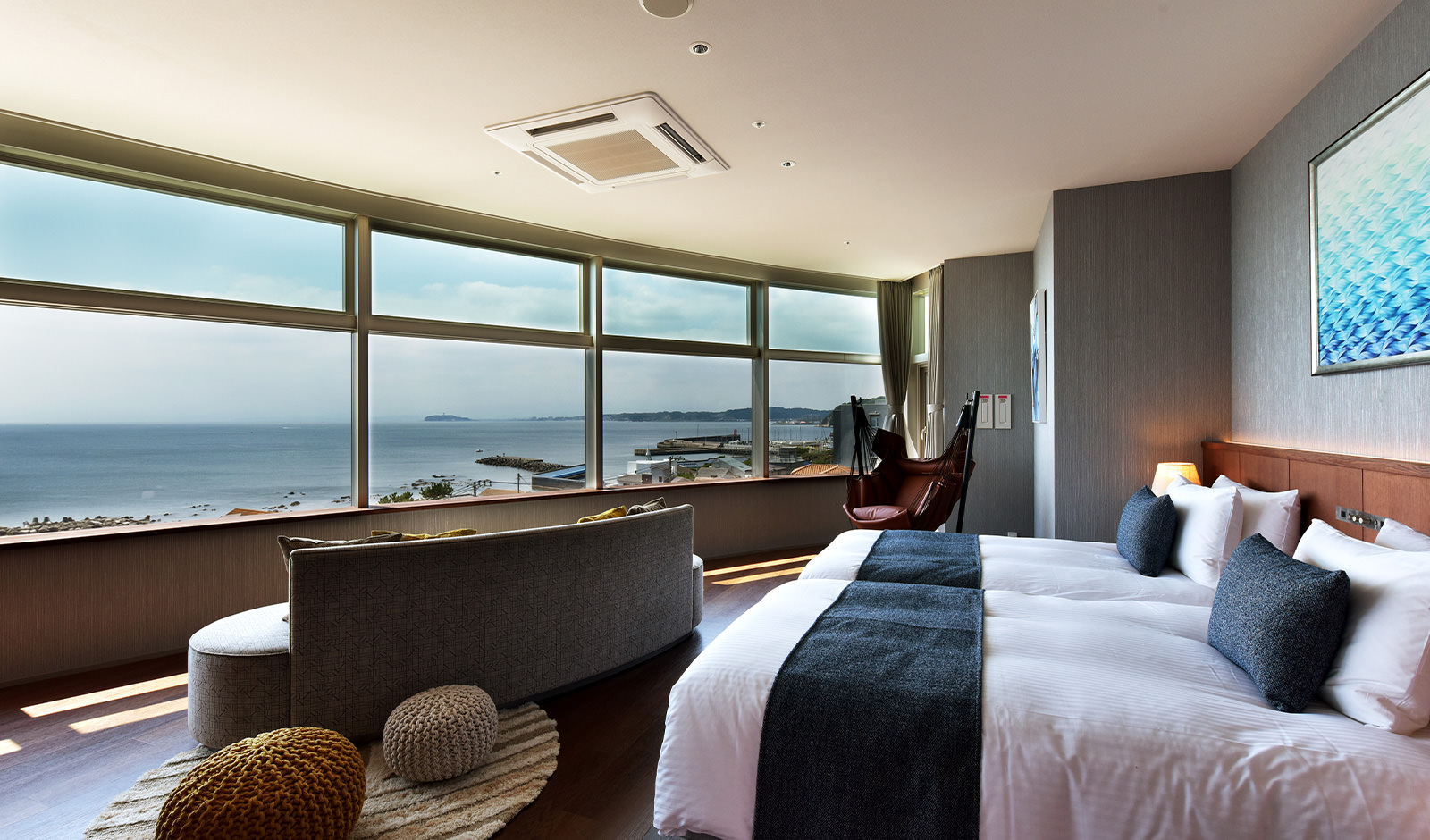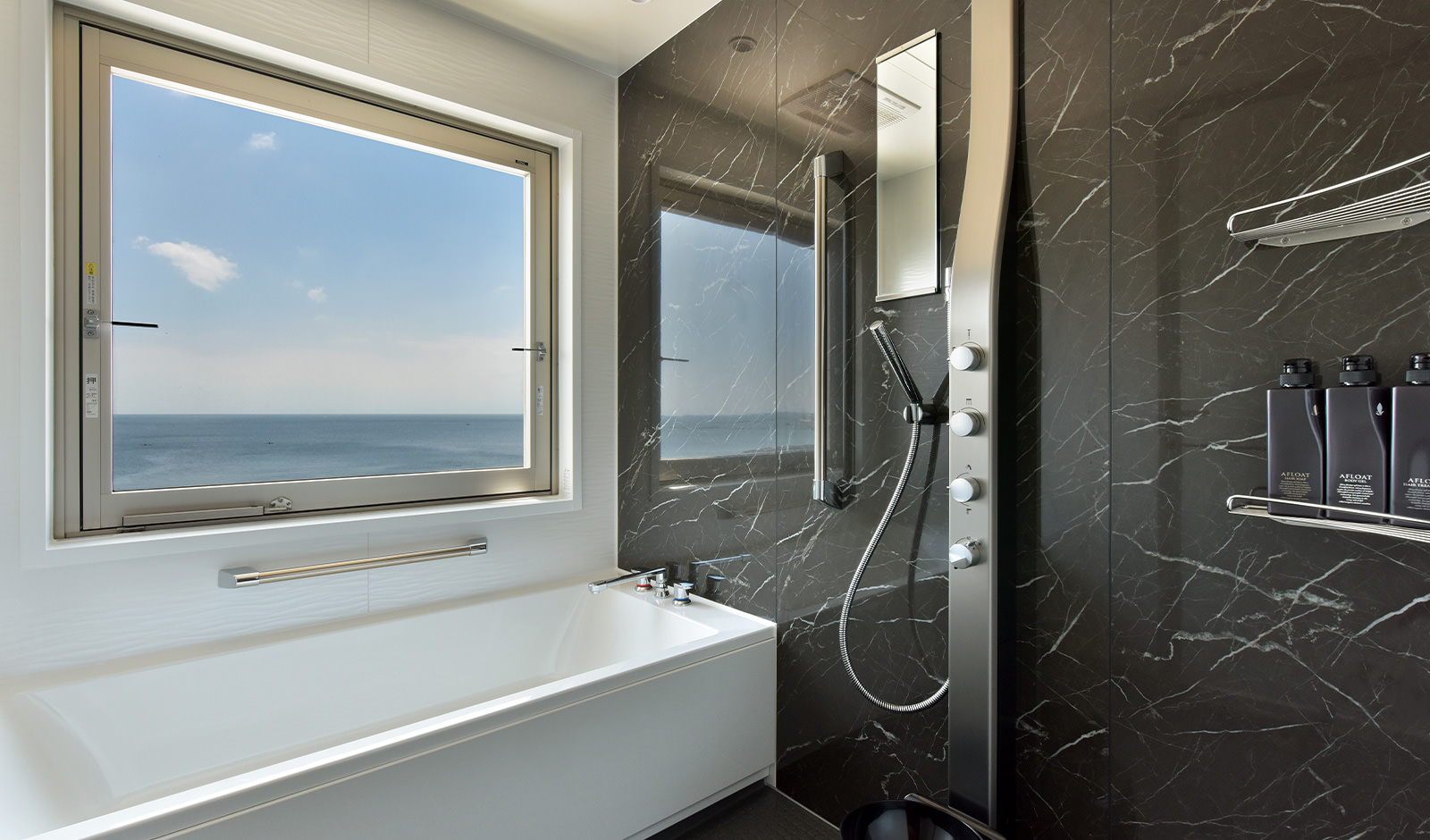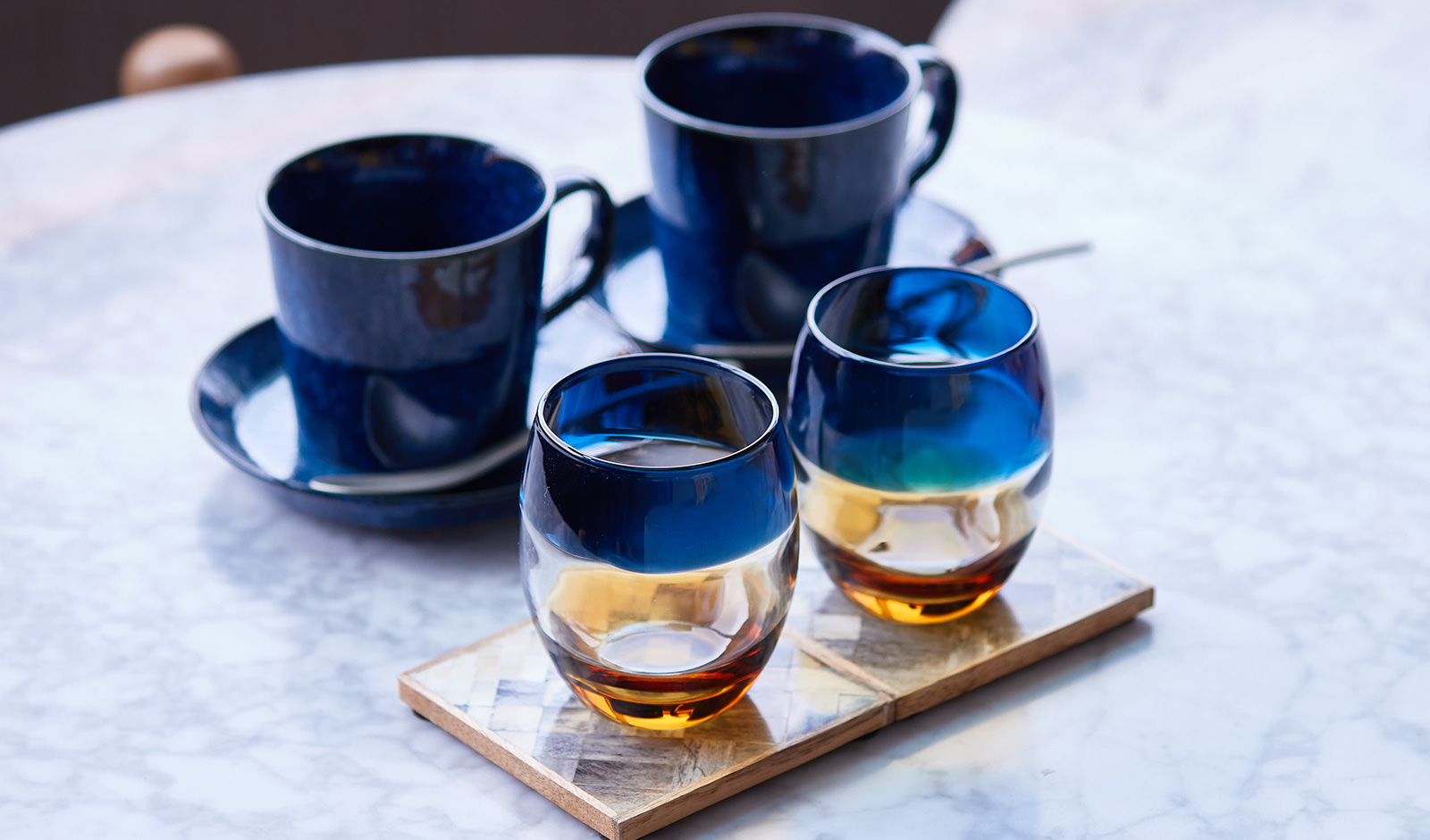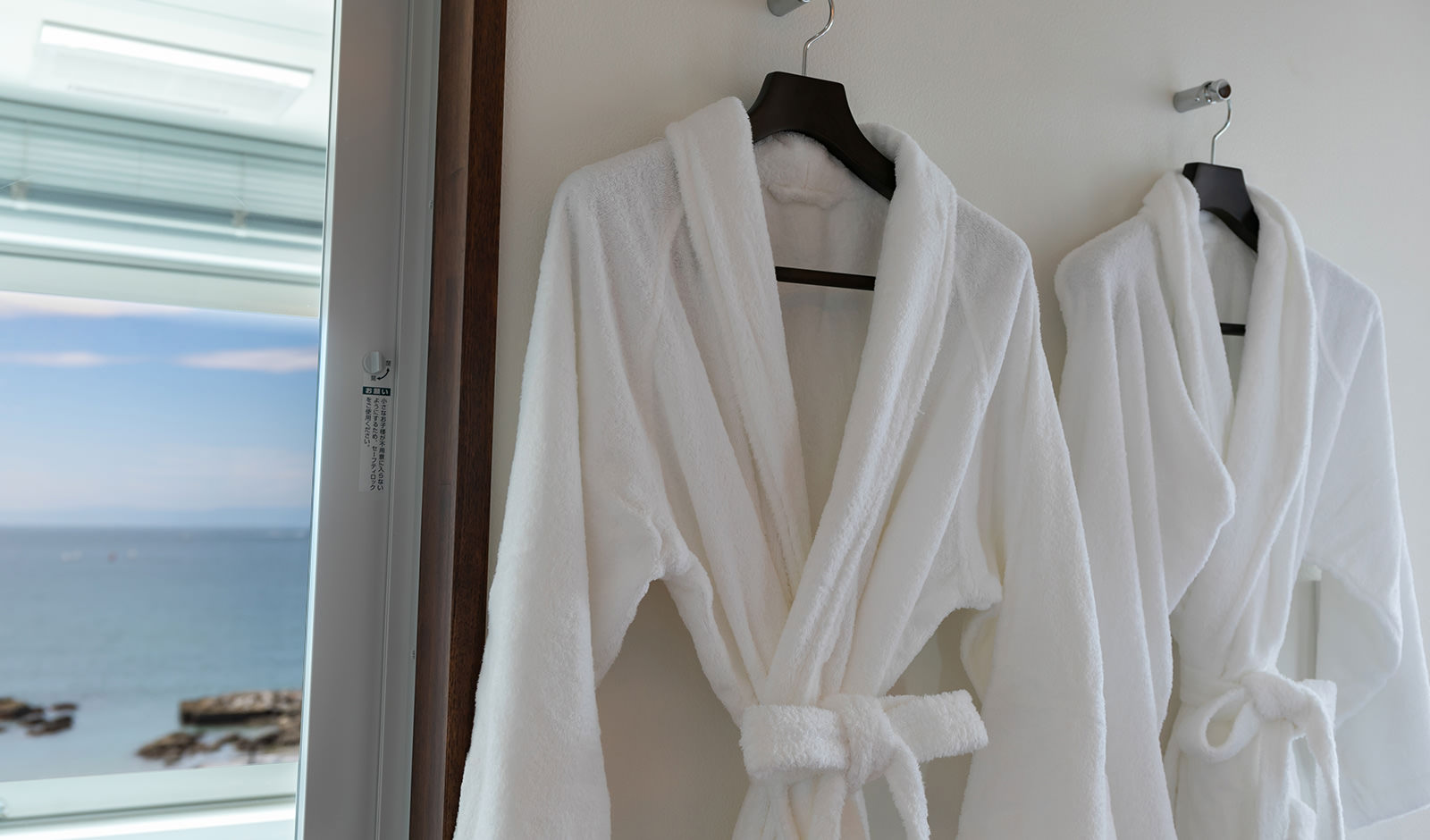 Room size

47.4 ㎡
Bed size

Double 120 cm x 2 beds
Maximum allowed

2 people
Room type

Private room
Bathroom and sink

Equipped
Room view

Panoramic ocean front
LCD TV / Refrigerator / Hairdryer / Electric kettle / Safe / Glasses and Cups / Towels and amenities / Speaker / Shoehorn / Slippers / Emergency penlight
Feature
Horizon
Bathroom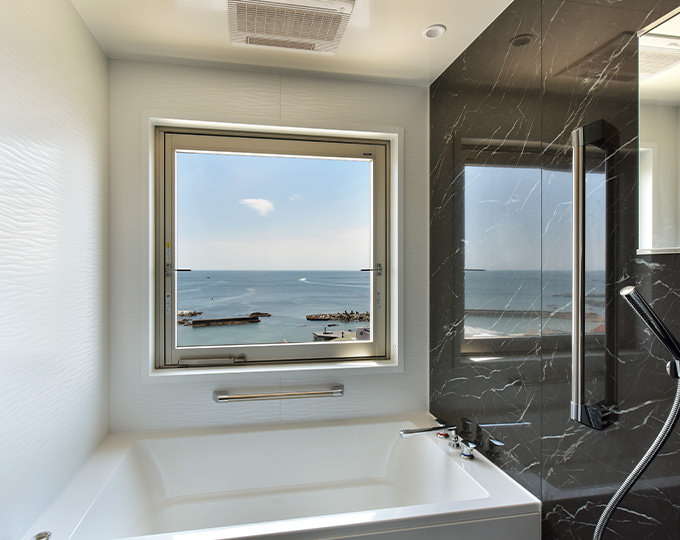 You will enjoy the private bath room while admiring horizon in your panoramic ocean front suite room. The panoramic ocean view of Hayama and Mt. Fuji all for yourself. Spend an extravagant time at dusk with the extraordinarily spectacular view.
It is not natural spring Onsen water.
Amenity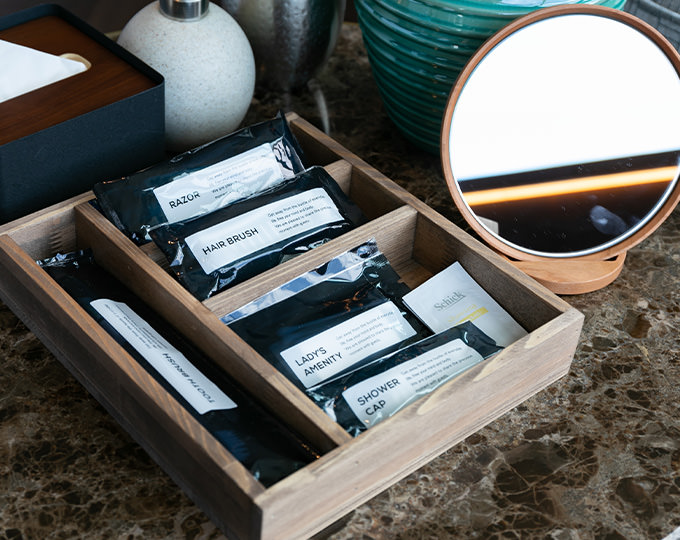 We offer various amenities in your room. It includes shampoos, soaps, lotions that contain argane oil,which is known for its beneficial effect of beautifying skin and hair, as well as tooth brushes, hairdryer, nightwear, and a tote bag that is useful when visiting the Onsen, the hot spring.
Furniture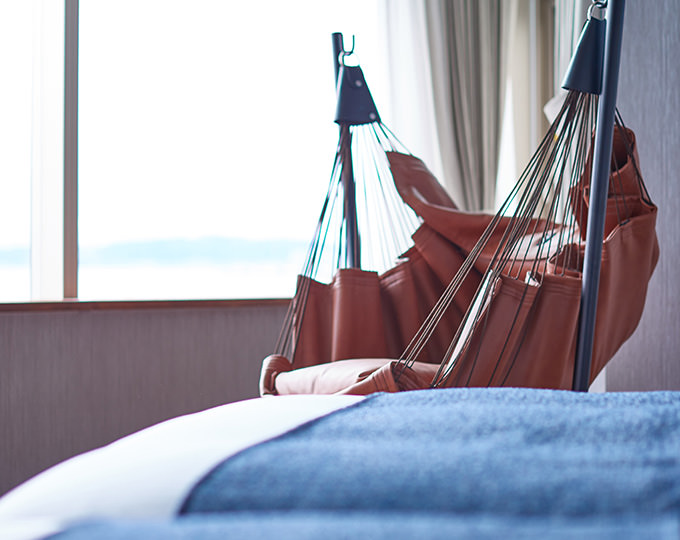 One of the things UMINO HOTEL is particular about, are the interiors including furniture. The hanging chair at Sunset suite offers you a comfortable and soothing swing that gently cuddles you, and brings you to a deep sleep. Made-in-Japan furniture, which lets you feel the care of the craftsman, and that heals your mind and body.
Dryer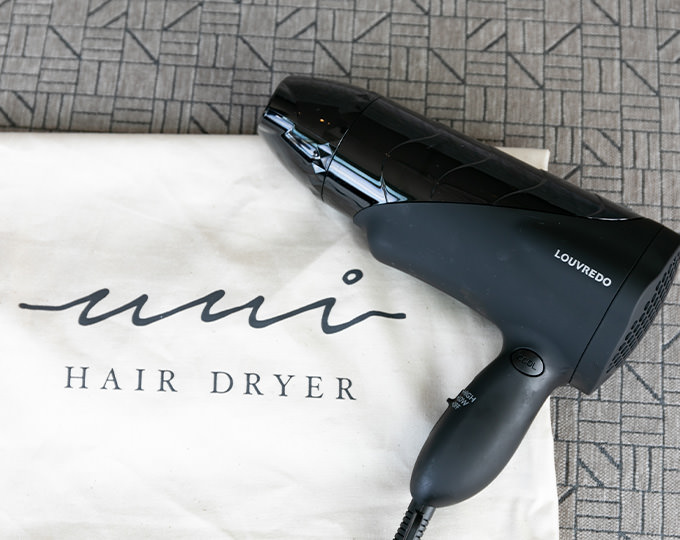 A special dryer is available for hair and body care. It is a high functional dryer for professionals,which quickly drys hair with air of your choice, and gives moisture and shines your hair with "growing light" and "negative electrons." It can be used for face and body care and is a specially featured dryer in the industry.